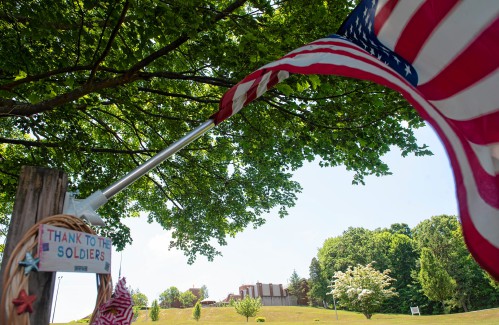 The Beacon Hill Appeal records the voices of local officials and senators on appeals from the week of May 17-21.
$ 400 million for the new Holyoke Soldiers' Home (H 3770)
The House, 160 to 0, and the Senate, 40 to 0, approved and sent a bill to Governor Charlie Baker approving $ 400 million to fund the construction of a new soldiers' home in Holyoke. (Gov. Baker then signed the bill on May 25.) The move to build the new home follows the deaths of 77 veterans last year as a result of a COVID-19 outbreak at the current facility. A committee of the House-Senate Conference prepared this compromise version after the House and Senate approved different versions of the measure.
The bill also provides $ 200 million to improve geographic equity and access to long-term care services for veterans in Massachusetts, with a focus on areas not primarily served by soldiers' homes in Chelsea or Holyoke .
"Rebuilding the Holyoke Soldier's Home and improving access to services for our veterans is necessary and long overdue, especially after many of the Soldier's Home residents were tragically lost to a COVID-19 outbreak last year," said Senator Cindy Friedman , D. -Arlington, who served as Senate negotiator on the conference committee. "This funding will ensure that Commonwealth veterans are provided with the services they deserve and that meet their unique and changing needs."
"Our veterans across the Commonwealth deserve the best care and treatment as they age," said Senator Paul Feeney, D-Foxborough, another member of the conference committee. The bill we passed today will ensure that their needs are met for generations in a safe, comfortable and welcoming soldiers' home. In addition, it is important that this vital, taxpayer-funded facility be efficiently built by a local, well-trained, safe, and diverse workforce that provides a career pipeline for skilled craftsmen in western Massachusetts. The Biennial and Collaborative Bonds Approval Act we sent to the Governor reflects our values ​​and is in line with our focus on providing equitable and quality care to every veteran in the Commonwealth. "
"As a Senator for Holyoke City and the Soldiers' Home, I know what this new home means to so many in our ward," said Senator John Velis, D-Westfield, Senate Chairman of the Veterans and Federal Affairs Committee. "This was really a long and emotional process that began long before this legislation was first submitted. From the start, families and veterans gave me a very clear message: "Do this." We couldn't disappoint them and I am proud to say we did not disappoint them. … The funding approved in this Bill will ensure that future residents of the Holyoke Soldiers' Home and veterans in our Commonwealth receive the care and dignity they deserve in serving our nation. Today's vote brings us one step closer to fulfilling this mission. "
A "yes" vote is for the bill.
Rep. Natalie Blais – Yes
Rep. Paul Mark – Yes
Rep. Susannah Whipps – Yes
Senator Joanne Comerford – Yes
Senator Anne Gobi – Yes
Senator Adam Hinds – Yes
Changes in sick leave and unemployment insurance from COVID-19 (H 3771)
The House, 157 to 0, and the Senate, 40 to 0, approved and sent Governor Baker a bill that would grant skilled workers up to five days of paid vacation for COVID-19-related emergencies, including sick workers as the virus is recovering As part of a quarantine order for a vaccine or the care of a family member infected with the virus.
The measure is also intended to relieve employers of expensive unexpected costs from the unemployment system this spring. Many companies were shocked to see their unemployment benefit bills for the first quarter and found that the solvency rating rate had increased from 0.58 percent in 2020 to 9.23 percent in 2021, bringing the cost by hundreds or thousands of in many cases Dollar increased.
Under the proposal, the state would move all COVID-19 related unemployment claims from the Solvency Fund to a new COVID-19 Claims Fund and the Solvency Fund would return to its original function. Employers who fund the state unemployment benefit system will remain on the hook in the long term, and a COVID-19-related assessment of companies will come into effect in 2021 and 2022.
"Massachusetts workers and businesses share a common goal of restoring jobs and getting back to work during the COVID pandemic," said Steve Tolman, president of the AFL-CIO in Massachusetts. "By spreading this year's solvency assessment over the next two decades using already approved loans, the House has taken the necessary step at this point to enable this further economic recovery. Going forward, it is important that we look carefully at the way we fund our unemployment insurance system to ensure that the costs are shared across businesses. that in good economic times we build substantial reserves to survive the bad without relying on costly credit; and that workers can continue to count on the benefits of the user interface as an economic lifeline to support their families and boost the Massachusetts economy. "
"The unemployment benefits crisis was caused directly by Governor Baker's shutdown of the state economy and the legislature's failure," said Chip Ford, executive director of Citizens for Limited Taxation. "The federal government has provided relief with its American Rescue Plan Act, but the House has chosen not to use those funds to ease the state burden on employers. It is irresponsible for the state to continue abusing destroyed businesses when federal funding has been made available to alleviate this pain. "
"This proposal is a good step in providing employers with immediate unemployment insurance tax relief, but not a long-term solution," said Christopher Carlozzi, state director for the National Federation of Independent Business (NFIB) in Massachusetts. "The state has forced companies to close their doors and undo operations, resulting in widespread layoffs. Because of this, employers shouldn't have to shoulder all of the UI's tax burden alone, and policymakers must use a portion of the billions of dollars in federal aid to replenish the UI Trust Fund, as so many other states have done. "
"This legislation is an important step in preventing immediate tax increases of up to 1,600 percent for Massachusetts employers," said Jon Hurst, president of the Retailers Association of Massachusetts. "It will amortize and spread the billions of dollars in COVID-related claims over 20 years, but it will not eliminate the pain. Still, there must be a shared responsibility with the government to cover some of the UI Trust Fund's debt. The orders, restrictions, messages, emergency services, and fraudulent claims were related to government action, not those of employers. "
A "yes" vote is for the bill.
Rep. Natalie Blais – Yes
Rep. Paul Mark – Yes
Rep. Susannah Whipps – Present
Senator Joanne Comerford – Yes
Senator Anne Gobi – Yes
Senator Adam Hinds – Yes
Exclude community workers (H 3771)
The House of Representatives (0-158) and the Senate rejected Governor Baker's amendment, which would exclude city workers from the COVID-19 emergency vacation program, if they voted without a roll call.
The Baker administration has defended the exclusion of municipal workers, arguing that they already have strong vacation protection and that many municipalities can access federal funding to implement their own vacation programs that could be reconciled with state and federal vacation guarantees.
Rep. Josh Cutler, D-Pembroke, chairman of the Labor and Human Resources Development Committee, disagreed with Governor Baker.
"As the speaker made clear, the House is determined to support the emergency paid COVID vacation for all workers in Massachusetts," Cutler said. "This includes our city workers, teachers, police officers, firefighters, health agents, janitors, veteran agents, and many others who have been essential to our state's COVID-19 response. In addition, today's actions to tackle solvency account rates for the unemployed will help contain rising costs for employers and small businesses. "
Brad Jones, Chairman of the GOP Minority House of Representatives, R-North Reading, disagreed with Governor Baker, a Republican.
"Access to paid emergencies is crucial for workers recovering from coronavirus, caring for a family member, or trying to schedule their vaccination," Jones said. "Community workers – including key frontline workers such as the police and fire departments – have also faced numerous challenges caused by the global COVID-19 pandemic, and the vote of the House will ensure they are entitled to the same paid sickness benefits like other non-communal workers. "
A no is against the amendment and advocates the involvement of community workers.
Rep. Natalie Blais – No.
Rep. Paul Mark – No.
Rep. Susannah Whipps – Present
Unemployed applicants also have to look for work up on Beacon Hill
Governor Baker announced that effective June 15, job search requirements will be reintroduced for all regular unemployment insurance (UI) applicants. Massachusetts temporarily suspended these requirements in March 2020 when the pandemic began.
Under the resumed rules, applicants are required to certify each week that they are conducting at least three job search activities and provide proof of that activity to the Unemployment Assistance Department upon request in order to remain eligible for UI benefits. Examples of valid job search activities include completing an application in person or online with employers who can reasonably be expected to have a vacancy for a suitable job. Registration for employment and reemployment services with a local MassHire Career Center; and use other job search activities, such as: B. Checking job offers on the Internet, in newspapers or trade magazines, contacting professional associations and networking with colleagues or friends.
"This is very good news for everyone," said Paul Craney, executive director of the Massachusetts Fiscal Alliance. "Business, employees and customers need to get back to normal and this is a good first step in that direction. Companies have a hard time hiring workers because unemployment benefits are so generous. Customers cannot enjoy their favorite stores because these businesses are faced with a shortage of labor. "
"I am totally against Gov. Baker's drive to reintroduce job search requirements for UI applicants from June 15," said Rep. Mike Connolly, D-Cambridge. "This adds an extra layer of complexity to a UI system that has struggled to benefit many residents in a timely manner. In addition, we have just witnessed one of the biggest labor disruptions in history. If we impose these requirements now, it will cause systemic racism and other inequalities to persist, forcing some of our most vulnerable residents to accept underpaid work or work in unsafe conditions. "
Start times of the study days (H 600)
A measure to create an educational task force to review the impact of school day start times for middle and high school students was the subject of a hearing before the Education Committee.
"Some school districts have moved their start times later in the day, but many districts have chosen to keep earlier start times," said Sponsor Rep. Carmine Gentile, D-Sudbury. "There are already numerous indications that with later start times, students can sleep better, perform better and drive more safely.
A task force would investigate the impact of late start times on Commonwealth schools and make key recommendations for school districts and officials. "
Counterfeit service animals (H 1565)
This Justice Committee-sponsored bill, sponsored by Rep. Kim Ferguson, R-Holden, would make it a crime for anyone to misrepresent that a dog or other animal is a service animal.
First-time offenders would be required to do 30 hours of community service for an organization that serves people with disabilities and / or fines up to $ 500. Subsequent violations would result in 60 hours of community service and / or a fine of up to $ 1,000.
Ferguson said the bill aims to protect service dogs and their handlers from people who abuse the rights granted to them under the Disabled Americans Act (ADA).
"This has become a growing problem across the country, leaving 27 other states to pass laws like this," Ferguson said. The law will strengthen the ADA and provide guidance to business owners and the public, as well as training law enforcement agencies on what can and cannot be done when someone breaks the law.
"I think we can all agree that we've seen many pets in stores, restaurants, and business premises that are pets – driving in shopping carts, clad in clothes, or a nuisance just because they are pets – not well-trained service dogs." Ferguson continued. "Sometimes it also affects members of the public who want to be at a place of business – a restaurant, etc. – without their pets unnecessarily interfering – eating off plates, sniffing at their food, barking or growling."
Free College Education (S 829)
The College Committee held a hearing on laws that would guarantee free public higher education as the right for all students. The scheme creates a scholarship program to cover tuition and mandatory fees for Massachusetts residents attending a Massachusetts public college or university, or a certificate, professional, or educational program at a public institution. For students who meet a specific low-income eligibility, the legislation provides for additional grant allowances to cover the additional costs of attending school, including room and board, books and supplies, transportation, and personal expenses.
"Higher education is critical to the economy and the success of our state," said co-sponsor Sen. Jamie Eldridge, D-Acton. "We can't treat it like a luxury. We must not allow financial obstacles to hinder the growth of our youth and the prosperity of our state. A law to ensure debt-free public higher education is the solution. "
"I submitted this legislation because I believe public higher education should be free and accessible as it was in the late 1980s when I was born," said co-sponsor Rep. Natalie Higgins, D-Leominster. "Unfortunately, inaction to keep up with public college funding has resulted in widespread cuts – 32 percent per student since 2001, plus 32 percent fewer scholarships. This is a share issue. While 50 percent of Massachusetts residents have a bachelor's degree or higher, less than 30 percent of my community in Leominster have a bachelor's degree, and it can be less than 25 percent in Gateway Cities. "
Social emotional learning (H 543)
MEP Ruth Balser, D-Newton, supported this draft law of the Education Committee, which would stipulate as initial certification and recertification that all educators and administrators must be trained in "strategies for developing the socio-emotional learning competencies of the students". These include self-confidence, self-management, social awareness, relationship skills and responsible decision making. "
Supporters said increasing research shows that high quality social and emotional learning practices in schools help children develop the social, emotional and academic skills they need to be successful. They found that many students come to school with trauma affecting their relationships, and school officials report that the number of students with anxiety, depression, and thoughts of suicide is increasing at alarming levels.
"It's important to realize that children's learning depends in part on their emotional state," said Balser. "This bill requires teachers and administrators to be trained in socio-emotional learning strategies."