Gwinnett County commissioners vote to purchase Gwinnett Place Mall
Gwinnett Place Mall has been maligned by residents, business leaders and elected officials in recent years because of its struggles as tenants and shoppers left, but it may be about to turn a corner.
At the very least, it will have a new owner — and this one answers to the residents of Gwinnett County.
County commissioners, acting in their role as Gwinnett's Urban Redevelopment Agency, voted to let the county buy 39.06 acres at the mall for $23 million. They then immediately turned around at another meeting right afterward and voted, in their capacity as commissioners, to approve a resolution ratifying the action they took less than an hour earlier as the URA board.
"I am very excited about this purchase and sale agreement, the first step towards closing on this property," outgoing Commissioner Jace Brooks said. "Obviously the Gwinnett Place area is like the county's central business district and this has sort of been like a glaring hole and I look forward to this purchase and working the anchors owners, as well as the (Gwinnett Place Community Improvement District) and the community to redevelop this area."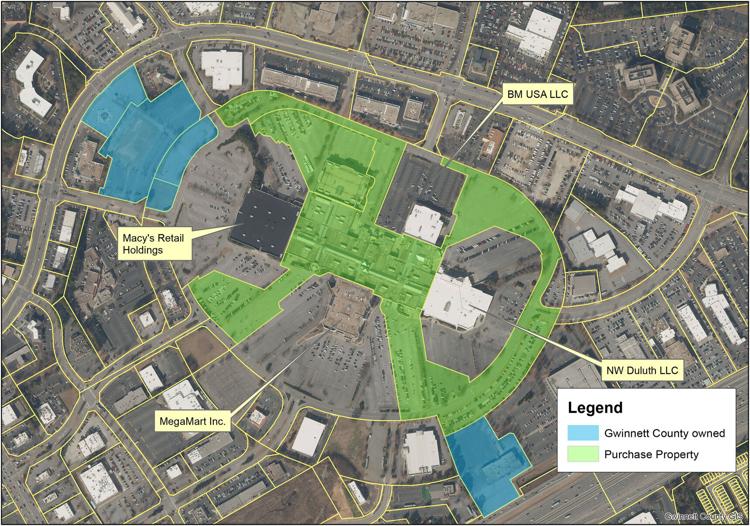 The total acreage listed for the purchase matches the acreage listed in county property tax records for the interior of the mall and the former Belk property, all of which are owned by Moonbeam Properties. The purchase does not appear to include the Macy's, Mega Mart, Beauty Master and former Sears anchor spaces, however.
The purchase of the mall may be something of an early Christmas gift for the incoming Board of Commissioners, which will only include two of the current commissioners as well as three new commissioners.
One of the incoming commissioners, Kirkland Carden, had advocated the county buying the mall when he was on the campaign trail this year. Carden will replace Brooks as the commissioner who represents the area that includes Gwinnett Place Mall once he takes office on Jan. 1.
"While 2020 has been an extremely challenging year, it could not have ended on a more positive note for the Gwinnett Place area and the county as a whole," said Gwinnett Place CID Executive Director Joe Allen, who has long promoted the need for the mall to be redeveloped. "This is very good as we continue to deal with our dead mall problem. I think this is an amazing, bold first step for (the commissioners to take)."
Access to much of the inside of the mall had been blocked off in recent months with only one wing of the mall, between Mega Mart and Macy's, still open to the public because it was the only part of the mall that still had a handful of shops or other tenants, including the Gwinnett County Republican and Democratic parties.
It was not immediately clear what the county plans to do with the property, partially because most of the commissioners who voted on the purchase will no longer be in office in a few weeks.
"The purchase of this property by the Urban Redevelopment Agency will help encourage the redevelopment of the whole Gwinnett Place Mall as contemplated in the county's 2040 Unified Plan," county attorney Mike Ludwiczak said.
With other properties that the county has purchased in recent years, including most of the OFS site off Jimmy Carter Boulevard and the former Olympic Tennis Center site near Stone Mountain, the county has purchased the property and then made plans to offer the site up to redevelopers as a public-private partnership to see what developers could come up with for the site.
Luxury apartment developer Northwood Raven already owns the former Sears anchor spot, including that anchor's parking area, and is expected to eventually redevelop that part of the site with residences. The fact that Macy's, Mega Mart and Beauty Master own their respective anchor spots adds complications to how the site can be redeveloped.
"Congratulations to Commissioner Brooks," outgoing commission Chairwoman Charlotte Nash said. "I know that this is something that he has pushed for, I think, about his entire time in office. We know that this area is primed for redevelopment and we've finally getting to the point where we've got a willing seller that gives us an opportunity to move forward on it. I'm excited as well."
Four African-American women made Gwinnett history with swearing in ceremonies this past week
Four Gwinnett County women made history this past week as they took their oaths of office to assume their respective seats.
Over a span of two days this past week, spanning Wednesday and Thursday, Patsy Austin-Gatson, Tiana Garner, Tarece Johnson and Karen Watkins became the first African-American women — in some cases the first African-American period — to be sworn in as Gwinnett County's district attorney, clerk of courts and school board members, respectively.
The quartet are part of the second wave of African-American women from Gwinnett County to move into elected offices since 2018.
Austin-Gatson will be the first African-American district attorney and Garner will be the first African-American clerk of courts in Gwinnett's 202-year history. Meanwhile, Johnson and Watkins shared the history-making honor of being the first African-American women to be sworn in as members of the Gwinnett County Board of Education on Thursday.
They are not the only history-making African-American women who will take an oath of office this month because Nicole Love Hendrickson, the first African-American elected to serve as the head of the Gwinnett County Board of Commissioners, will be sworn in on Dec. 28. They do, however, make up the majority of the history-making women who are about take local office.
At Austin-Gatson's swearing in ceremony, she received a Georgia House of Representatives proclamation from state Reps. Dewey McClain and Donna McLeod in recognition of her legal career and place in Gwinnett history.
The Emory and Syracuse University graduate has plenty of courtroom experience having worked as a lawyer for more than 30 years with a career that has included stints as a private attorney, as a lawyer at the Georgia Attorney General's Office and as an attorney in the Gwinnett Solicitor's Office.
She used her swearing in address to issue a challenge to the community to get involved in helping Gwinnett.
"I believe that every person in our community has something that they can contribute," Austin-Gatson told attendees at her swearing in ceremony. "Nobody has the luxury to sit back on their laurels. You can read to a child, you can be kind to people. We have food insecurity in our community right now because of COVID. There's so much we can all do, and none of us gets a pass on that."
Meanwhile, Garner is well-versed in how the Gwinnett County Clerk of Courts Office works since her election — which came without any opposition — is more like a promotion for her. She has been the deputy clerk of courts for Gwinnett County under outgoing Clerk Richard Alexander — who called her a "great partner" — and now she will be the head of the office.
A graduate of both Georgia State University and Samford University's Cumberland School of Law, Garner had been a private practice attorney before she went to work in the clerk's office.
"I am proud to live in the most diverse county in the Southeast," Garner said at her swearing in ceremony. "I'm humbled to have run for this position — my first time running for an elected office — I'm humbled to have run unopposed and I am proud to be elected as the first African-American, the first woman, to hold this position and I'm proud to have the opportunity to serve my community in this capacity."
Garner's swearing in ceremony is already available for viewing on TV Gwinnett's Vimeo Channel and Austin-Gatson's ceremony is expected to be made available on the channel soon, although she has posted her own video of the event on her campaign's Facebook page.
Elsewhere, Johnson and Watkins were sworn in together before the Gwinnett county Board of Education's meeting on Thursday night.
Johnson is the owner of Global Purpose Academy and The Global Purpose Approach and holds a bachelor's degree in humanities: languages and literatures from La Universidad del Sagrado Corazon in San Juan, Puerto Rico; a master's degree in public affairs from Columbia University; another master's degree in business administration from Emory University; and a doctoral degree in educational leadership and management, with a focus on multicultural and multilingual education, from Capella University.
"I want the special needs kids in our schools to know that I see them," Johnson said after taking her oath of office. "I want the child who is failing in school to know that I know the struggle. I want the student who feels the school is the only safe space, and the only stable place, to know that I understand. I want our students to know that there is hope."
Meanwhile, Watkins works as a sourcing manager, and is also a mother. She also has a unique perspective on issues facing immigrants, since her mother immigrated to the U.S. from the Phillipines. Her family is also used to breaking some new ground since her paternal grandfather was the first African-American captain of an integrated U.S. Merchant Marine ship.
After she took her oath of office, Watkins recited a long list of goals she'd like to accomplish as a school board member, including: ensuring equity for students; making sure resources and finances are directed toward Gwinnett classrooms; ensuring there is accountability to make sure students succeed academically, particularly in major core curriculum areas; leveraging the value of having a diverse school system; and making sure students are prepared to work in "our ever-changing world" among other goals.
"My mission is to empower all of our students to achieve and become productive, sustainable individuals who positively contribute to our community," she said.
Gwinnett County Public Schools has faced steep shortage of substitute teachers this fall because of COVID-19
Gwinnett County Public Schools is facing a shortage of substitute teachers who can fill in when a class' teacher is sick or has another emergency that precludes them from coming to work.
Numbers that were presented to the county's school board on Thursday show the district's pool of available substitute teachers is down by more than 1,000 individuals so far this year. Associate Superintendent for Human Resources and Talent Management Monica Batiste told school board members that there are currently 2,021 people in the district's pool of available substitute teachers.
By comparison, there were 3,046 available substitute teachers available to Gwinnett county Public Schools during the 2019-2020 school year.
"As we reached out to our subs, we realized there were two unique challenges that have caused our sub number to decrease," Batiste said. "The first is we have a number of subs who are at home working with their children in digital learning environment.
"And, the second one that we noted were that a number of our teachers were recent Gwinnett county retirees and they did not feel safe returning to school at this time."
The smaller pool of available substitute teachers has led to situations where there have not been enough subs available to fill all of the vacancies created in a single day by high teacher absences.
One such day was Dec. 9. 
Gwinnett schools spokesman Bernard Watson said there were 860 teacher absences — out of more than 12,000 teachers in the district — on that day. The school system was unable to find substitutes to fill more than a quarter of those vacancies, however.
There were rumblings among current and former GCPS employees that the situation was so dire at some schools that they were having teachers who did come to work use half of their planning periods to help cover an absent colleague's classes.
"The district did not have substitutes for 304 of those (860) positions and schools resorted to their backup plans for covering those classes," Watson said. "Those plans include having coverage provided by support staff, paraprofessionals, or administrators. GCPS is not alone in having difficulty finding substitute teachers.
"The lack of available substitute teachers is a nationwide problem that school districts around the country are struggling to address."
Watson said COVID-19 safety protocols in the district have driven a higher need for substitute teachers. That's partially because those protocols require people who have been in close contact with an individual who has tested positive for COVID-19 to quarantine for 14 days, the district spokesman explained.
The U.S. Centers for Disease Control and Prevention recently changed its guidance to recommend people only quarantine for 10 days, however. As a result, there could end up being less need for substitute teachers, according to Watson.
"In addition, we are expanding the ways teachers can work from home if they test positive for COVID-19 or are quarantining because they or their child was identified as a close contact," he said. "Meanwhile Human Resources is focused on recruiting additional substitute teachers and reaching out to substitutes in our current substitute pool who have been inactive."
Batiste said the district also increased the pay substitute teachers receive by $5 per day in August to attract more subs. That means a short-term sub now receives $98 per day and a long-term sub receives $108 per day. A new communications program focused on highlighting school safety was launched in September.
Virtual job fairs and computer lab sessions were held in October and the on-call substitute program was put in place in November.
This month, district officials lowered the educational requirements for substitute teachers from having at least 60 college credits to holding a high school diploma, which has allowed younger college students  to become substitute teachers. About 676 substitute teachers have been recruited since July through those efforts.
Additional efforts that are on the horizon include a new billboard advertising campaign that will be visible in the Jimmy Carter Boulevard area and south starting in January.
"We are also reaching out to all of those inactive subs who said that they did not want to come back in the fall, but may be ready to come back in the spring," Batiste said. "And, we're also reaching out to all of our Gwinnett retirement candidates to see if they'd like to come back and sub."
Gwinnett's early voting turnout for runoffs has so far been higher than general election
Voter turnout is traditionally lower for a runoff than for a general election — or at least that's been the long-held common perception — but Gwinnett has seen something different in the last week.
Gwinnett's early voting turnout for the Jan. 5 runoff election — featuring two internationally watched Senate races, as well as a Public Service Commission race — has actually been higher in its first week than it was for the same period of early voting for the Nov. 3 general election, according to a county official.
"We've been higher the whole week," Gwinnett government spokesman Joe Sorenson said on Friday. "As of (Thursday), we had voted 43,483, and in the same period — the first four days (of early voting) in November — we had voted 36,773."
Gwinnett has nine early voting — also known as advance voting — locations open for the runoff. The early voting period lasts through Dec. 31, and will will include voting every day with two exceptions: Dec. 24 and 25, which are, of course, the Christmas Eve and Christmas Day holidays.
There is also no early voting on Jan. 1, which is the Friday of the last week of early voting but also a holiday.
As a result of there being fewer days of early voting due to the holidays, it is possible that turnout for the entire runoff election early voting period will not exceed the turnout from the general election.
"There are going to be a few fewer days," Sorenson said. "Even though we've got the same period and we're doing weekends, Christmas Eve and Christmas Day and New Year's Day, there's no voting on those days so there are going to be three fewer advance in person days. We're going to have to see how that plays out for the total numbers, and if people are going to keep up this pace in the next couple of weeks when they get heavy into the holidays."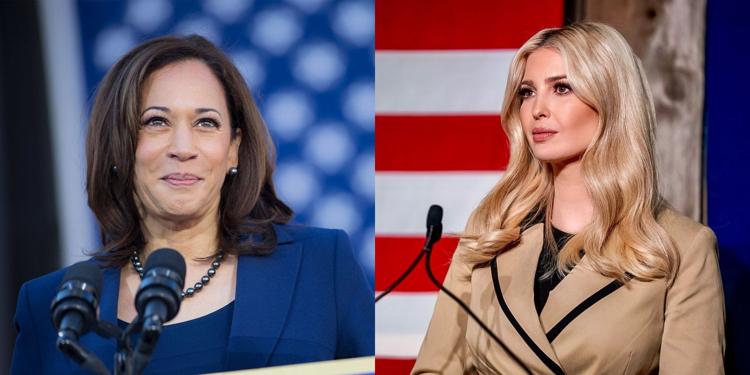 While the turnout has been higher for early voting for the runoff, however, the county has not seen lines as long as those seen at the beginning of early voting for the general election. While the first days of early voting for the Nov. 3 election saw voters waiting for hours to cast ballots due to an issue with a state elections network, the longest lines that Sorenson said he was aware of on the first day of early voting this past week were about 40 minutes.
"We just haven't had that same issue again with the state network so it's just been steady," he said.
One factor likely impacting turnout for this runoff, versus runoff elections held in the past, is that this election has major national implications.
Sen. David Perdue, a Republican, is facing Democrat Jon Ossoff. Meanwhile, Sen. Kelly Loeffler, also a Republican, is facing Rev. Raphael Warnock, who is a Democrat. If both Ossoff and Warnock win the runoffs in their respective races, it will shift control of the U.S. Senate from Republicans to Democrats.
Hence the attention being paid to Georgia not just across the U.S., but around the world.
In addition to the Senate races, however, there is also a runoff for Georgia Public Service Commission featuring Republican incumbent Bubba McDonald and Democrat Daniel Blackman on the ballot.
Voting each day will last from 8 a.m. until 5 p.m. at the Gwinnett Voter Registrations & Elections Beauty P. Baldwin Building, located at 455 Grayson Highway, Suite 200, in Lawrenceville, and from 7 a.m. and 7 p.m. at the following locations:
♦ Bogan Park Community Recreation Center, 2723 North Bogan Road in Buford
♦ Lenora Park Gym 4515 Lenora Church Road in Snellville
♦ Dacula Park Activity Building, 2735 Old Auburn Road in Dacula
♦ Lucky Shoals Park Community Recreation Center, 4651 Britt Road in Norcross
♦ George Pierce Park Community Recreation Center, 55 Buford Highway in Suwanee
♦ Gwinnett County Fairgrounds, 2405 Sugarloaf Parkway in Lawrenceville
♦ Mountain Park Activity Building, 1063 Rockbridge Road in Stone Mountain
♦ Shorty Howell Park Activity Building, 2750 Pleasant Hill Road in Duluth
Gwinnett schools extending one-time salary bumps offered in November to additional district employees
Gwinnett County Public Schools is adding a one-time salary bump for all district employees who were not covered in a one-time payment approved last month.
The county's school board approved the $700 salary adjustment for employees on Thursday. It extends the adjustment approved a month ago for classroom instructors to include all other employees of the district.
"This one-time salary adjustment will be paid in a lump sum," Superintendent J. Alvin Wilbanks told the school board.
The salary adjustment approved Thursday will be paid to the employees on their January paycheck, and cost the district about $8 million. It is expected to affect about 9,000 employees, including support personnel and school administrators.
All active, benefit-eligible employees working for the district as of Nov. 19, 2020 — and who did not receive the salary adjustment approved last month — are slated to receive this latest adjustment.
After the initial salary adjustment — which also included counselors, speech language pathologists, local school technology coordinators and media specialists in addition to teachers — it prompted an outcry from district employees who were not included.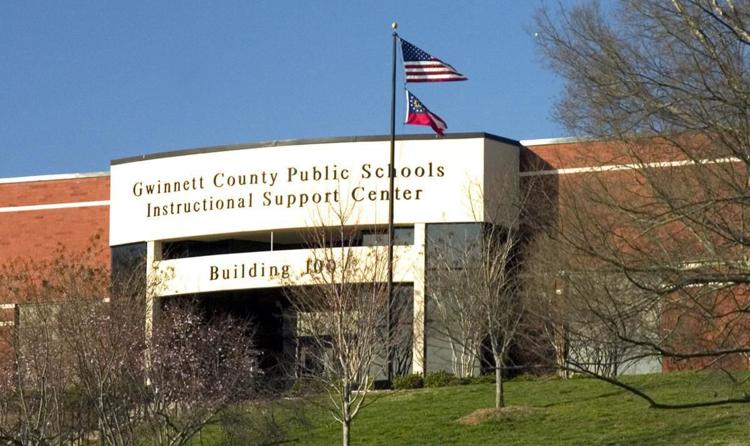 In a statement issued Thursday night, however, district officials painted the extension approved this week as something that was planned all along. They asserted the employees covered by the extension were not included in the adjustment approved last month because of a "need to manage cash flow for the district" as a result of the due date for property tax bills being delayed until Dec. 1 because of the COVID-19 pandemic.
"By announcing the one-time payment adjustment in two phases, the district was able to ensure it would be able to afford it without dipping into its end-of-the-year fund balance," Wilbanks said in a statement. "We know when we made the announcement for teachers last month that many of our other employees had questions.
"This has been a challenging year for all of our employees, and the Board and I are pleased that we are able to extend the one-time payment adjustment to include other categories of employees beyond those paid on the teacher salary schedule."
Mercer student from Loganville jailed in Cayman Islands for violating its COVID-19-related restrictions
A Mercer University student from Loganville and her boyfriend are facing four months in a Cayman Islands prison for violating public health rules put in place because of the COVID-19 pandemic.
The Cayman News Service reported Skylar Mack, 18, and competitive Jet Ski rider, and Cayman Islands native, Vanjae "VJ" Ramgeet, 24, were initially sentenced by a magistrate judge to serve 40 hours of community service.
Officials in the Cayman Islands government appealed that sentence, which resulted in another judge, from the island nation's Grand Court, overturning it and sentencing the pair to spend four months in prison.
The Cayman News Service described Mack as being a "medical student in the U.S." The incident which landed her and her boyfriend in prison reportedly stems from her attendance at a jet ski competition that Ramgeet was participating in.
Mack reportedly attended the competition at South Sound Beach on Nov. 29, two days after arriving in the Cayman Islands, despite local law mandating that she quarantine for 14 days after arriving in the country, according to the Cayman Compass news outlet.
The outlet also reported that Mack did not wear a face mask and did not practice social distancing at the event, where she reportedly spent seven hours.
The Cayman News Service reported that Mack had complained about a tracking bracelet being too tight, which prompted health officials to visit her to re-fit it. After that, she was reportedly able to slip it off so she could attend the competition.
The Cayman Islands Watercraft Association reportedly called local authorities after being made aware that she was in attendance and not following public health guidelines.
Both Mack and Ramgeet have reportedly pled guilty.
Gwinnett County names courthouse expansion for retiring commission Chairwoman Charlotte Nash
Although she will leave office in a few weeks, Charlotte Nash's name will continue to be associated with the Gwinnett Justice and Administration Center.
And, that's not some wistful thought about what kind of legacy she might have either. Her name will literally be associated with GJAC after her fellow commissioners revealed on Tuesday that they are naming the center's new $75 million expansion building the Gwinnett Justice and Administration Center Charlotte J. Nash Court Building.
"I am so very proud to have served under her wise, thoughtful leadership," County Administrator Glenn Stephens said. "As she enters (post-elected office) life, I'm sure we will see her around at events and meetings — I think she's implicitly threatened us that if we mess up, she will be there to watch us — but we'll have one more reminder of her when we come in to work each day, passing through this security node within this beautiful new building, this Charlotte J. Nash Court Building."
Some parts of the building, whose exterior is still partially under construction, are expected to open this month. That includes the new jury assembly room and a new entrance that opens up to GJAC's parking deck.
Officials did not tell Nash about the naming in advance, so her colleagues sprung it on her during the ribbon cutting ceremony for the building.
"The best kept secret in Gwinnett," one county employee shouted out as Nash, who had to watch the proceedings remotely by video conferencing because of a potential exposure to COVID-19, clasped her hand over her mouth in shock.
"Ya'll have got me so choked up," Nash told her fellow commissioners. "I am going to cry. Thank you, thank you, thank you. I had no idea. I appreciate the recognition, but it belongs to so many people. I can't give a list of everybody that deserves the same type of recognition, but thank you."
The building remains a construction site, particularly on the outside as exterior walls facing Nash Street — no relation to the chairwoman — and on an enclosed bridge that connects the new expansion building to the main GJAC facility continue to be installed. A sally port where inmates will be brought into the courthouse is also still under construction.
But, a new security check point into both the expansion building as well as the original GJAC is set to open Monday. That entrance to the complex will be accessible by a covered bridge that connects the Charlotte J. Nash Court Building to the GJAC parking deck. Signage in the existing GJAC building is also in place to instruct juror to use an enclosed walkway to get to the new, larger jury assembly room located in the new court building.
The five-story building's eight new courtrooms and other parts of the facility are not expected to open until the spring, however.
"We are so very pleased and appreciative of the support we have received from the community, the Board of Commissioners, our fellow elected officials and members of the Bar," Chief Superior Court Judge George Hutchinson said. "The Gwinnett Justice and Administration Center has served us well over the years, but the new addition will offer us the opportunity to move cases more effectively and efficiently through the court system for the benefit of all concerned, especially now at a time of great need."
Veronica Cope sworn in as Gwinnett's newest State Court judge
Veronica Cope says TV shows like "Perry Mason" and "Matlock" were part of her attraction to the legal profession when she was just 8 — but she also says the real world around her was a bigger influence than the television courtroom dramas ever were.
Cope, who is joining Gwinnett County's State Court bench as one of a handful of African-Americans in the county's judiciary, said she saw people being mistreated in the legal system. That was the real reason why the 45-year-old mother set her mind on becoming a lawyer while she was still in elementary school.
"I saw a lot of injustices growing up and my goal at that time, I said I wanted to be able to help people who couldn't help themselves, or be a voice for the voiceless," Cope said. "I was honestly a big fan of 'Matlock,' 'Perry Mason' (and) that kind of thing, but seeing those injustices at such a young age really put in me a desire to want to practice law and I've been pushing toward that goal ever since."
While Cope has been working as a lawyer for years, she took her involvement in the criminal justice system to a new level on Monday when she was sworn in as Gwinnett's newest State Court judge. She is only the second African-American, following Judge Ronda Colvin Leary, who was elected in 2018, to serve on Gwinnett's State Court bench.
Gwinnett also has one sitting Juvenile Court judge, one sitting Superior Court judge and one incoming Superior Court judge who are African-Americans. Cope said it is important for defendants, particularly African-Americans who may feel the criminal justice system is slanted against them because of the color of their skin, to see people of color among the judiciary.
"Representation does matter," she told well-wishers at her swearing in ceremony. "It shouldn't matter, but it does."
The last two years in particular have seen the Gwinnett County judiciary become more diverse, going from no African-American elected judges — Tadia Whitner, who now serves on the Superior Court bench, was previously a Juvenile Court judge, but Juvenile Court judges are appointed — to now having at four them elected at various court levels in the county.
That is in addition to an appointed African-American Juvenile Court judge, the county's first openly gay judge in Superior Court and its first Vietnamese-American judge in Juvenile Court.
"I think diversity of the bench is important because it gives people faith in the justice system," Cope said. "It allows people to know that there is diversity of thought — not just diversity of race, but diversity of thought, diversity of ideas. We have different cultural backgrounds represented on the bench, and sometimes it does make a difference.
"I think, as I mentioned earlier (during the ceremony), sometimes if you walk into a courtroom or courthouse, and there's nobody that looks like you, you might feel like you're not going to get a fair trial or fair opportunity to be heard. You feel like you might not walk away with justice being served."
Cope's arrival on the State Court bench is something that was three years in the making, dating back to 2017, when she announced a run for a seat on the Superior Court bench that was open in 2018. She did not win that seat, but she told attendees at her swearing in that she feels like she wasn't elected to that seat because God decided she was needed more on the State court bench than the one for Superior Court.
She even ended up running without opposition for the seat that she will hold.
"It's a blessing," she said after the ceremony. "I'm excited about serving in this capacity. I feel like it's a part of my purpose, to serve the citizens of Gwinnett county as a judge. I think that all of my experience over the last 19 years have prepared to serve in State Court, so I'm just thrilled."
But, Cope's story is about more than the color of her skin, and her full story was highlighted during her swearing in.
A native of North Carolina, she talked about completing her education as a young mother and going on to become a lawyer, as well as how she looked up to her brother and developing a love of basketball because he played it.
Cope and other speakers at the ceremony also talked about her being a "double Tar Heel" — meaning she has two degrees from the University of North Carolina at Chapel Hill — and how she is a fan of the Dallas Cowboys.
She also talked about how she felt as if her mother, who passed away from pancreatic cancer in 2005, was with her at the ceremony.
"You can't see her, but I can feel her," Cope said afterward. "She gives me strength when I feel like I can't go on, and I know that's her influence on my life. I know people would often ask when I was running, 'Howdo you do it? How are you everywhere at the same time?' I know that it's her spirit and it's God moving me to my purpose, so I know that she's with me."
Her sons gathered around her as she was sworn in by the man she is replacing on the bench, State Court Judge John Doran Jr.
Doran heaped praise upon Cope before he administered the judicial oath to her.
"I was so privileged to meet Judge Cope after I came over here to work on State Court," he said. "She practiced many cases in our division (as a lawyer) and she was always well-prepared, knew the law (and) had an excellent, excellent professional demeanor.
"But, there was something else about Judge Cope that I must mention: she was the kind of person, the kind of lawyer that had such a strong presence, such strong dignity in a courtroom that was characteristic of the very best trial lawyers."
53-year-old Sugar Hill mom of four inspires others by becoming first in family to earn college degree
Jan Bolton, a 53-year-old Sugar Hill resident, knew four years were going to pass one way or another, so she thought, "Why not have something at the end of those four years that can make my life better? And with that I knew I wanted to finish."
On Dec. 10, surrounded by her husband of 26 years, daughter, and two sons and their families, Bolton watched as her name was called during a virtual graduation ceremony at Georgia Gwinnett College.
Bolton is now the first person in her family to obtain a college degree, and with honors to top it off. More specifically, she obtained a bachelor's degree in psychology with a specialization in child development. She doesn't have a job lined up yet, but she hopes to find one she's passionate about where she can help others, as that has always been her natural inclination.
In 2016, Bolton said her family went through some tough times, starting with the loss of a close friend, the loss of her mother and then the loss of her husband's job. That triggered a recurring thought — to go back to school so that she could have a better earning potential. But she didn't tell anyone about the idea.
"That same weekend," Bolton said, "my sister and I went away together and she said, 'I really have been thinking about something I want to talk to you about.' … My sister and I are really close and so I was like, 'Well, what is it?' She said, 'Have you thought about going back to school?' That for me was just confirmation that this was really something I should do."
Her entire family was supportive from the start, especially her husband, who previously served in the U.S. Marine Corps and Army National Guard. The couple, Bolton said, completed three deployments together, each one lasting a year to a year-and-a-half long before he retired.
"He said, 'It's your turn. You've supported me in every mission and deployment I had to go on so I'm all for it. If this is something you want to do, then let's do it.' So that was my motivation to really go do this thing. You're never too old to learn is what I learned," Bolton said, laughing.
Her husband, Mark Bolton, said they all had to pitch in while remaining focused on the goal, which was for Jan Bolton to earn her degree. At the time that she started school, their four kids were grown up. The younger two were in high school and middle school. Their youngest is now in high school, which is why she couldn't attend Jan Bolton's virtual graduation ceremony on Thursday.
A few days before her graduation, Mark Bolton said he was still waiting on someone to pinch him, as he couldn't believe the day had finally come. He described the whole experience as "surreal."
"I'm just so proud of her. She's just an inspiration to all of our kids, especially when our kids say they can't do something. And she's a great lady. I've been married to her for 26 years, and I'm going to stick with this one. She's a good one," Mark Bolton joked.
Growing up, Jan Bolton said her parents were not financially able to send her to college and they didn't know how to either. They were both kids from the Great Depression Era, so the thought of going to school, much less sending a child to school, never occurred to them, she said. But she always knew she wanted a college education.
Previously, she worked as a preschool teacher for 15 years. She continued to teach and go to school for two years while at GGC. She said her days would start at 7 a.m. after dropping off the kids at school, then she would go to work, prepare her classroom, leave by 1:30 p.m. to be at school by 2 p.m., and come home at 6 or 7 p.m.
"My kids sacrificed just like I did. I knew from day one that in order to get the very best experience you need to be on campus. And when I was on campus and doing school I was all in and then when I was at home I was all in at home with my family and what was going on there," Jan Bolton said.
"That meant missed chorus performances and dance recitals and dinners for special occasions or special accomplishments because I had class. That was hard. It set a really high example for them. That makes them even more driven to accomplish their own academic goals."
Her older sister, Lynda Mills, was also always present when Jan Bolton got discouraged to remind her that "Yes, you can."
"Needless to say, as her older sister I'm very proud of her!" Mills said. "I think some folk would feel encouraged and inspired by her tenacity."
Of course, Jan Bolton still says it is never too late to go back to school. She added that people have a large capacity for learning well into their late 60's or early 70's.
"I feel amazing," she said. "I'm very proud of myself, and that's a lot for me to say because I'm pretty modest. I've learned that's just part of my personality. … But I've worked very, very hard for this and I'm proud that I saw it through even in the moments that were very tough which I think every college student goes through at some point."
Former Collins Hill High softball star establishes scholarships for Black students
Former Gwinnett County resident Aeshia Miles utilized her athletic talent to go to college and beyond. In August she was named a graduate assistant softball coach at Eastern Illinois University in Charleston, Illinois, the first step in her plan to one day be a head coach on the Division I level.
And now Miles, who played on state-championship teams at Collins Hill High School in 2011 and 2013 and utilized her pitching ability during a four-year career at Ball State University, seeks to help others in their educational pursuits.
Through her business, AAMPH LLC (where she provides pitching and softball lessons), Miles earlier this year established the Young King's Scholarship, which provided $500 awards to four young Black men to apply to their education, be it in college or technical school. She has now started a second initiative, the Young Queen's Scholarship, which will provide similar financial aid to young black women.
"My father provided perfectly for our family and we ended up well," Miles said. "Of course, much credit goes to my mom, because she's a rock as well, but in the dynamic of a family, when you have a strong male in the house, it makes a difference, especially in the African-American community.
"So when I started thinking about that, success correlates to higher education – the likelihood of finding a job and being able to provide and the kids growing up in that environment want to do the same thing – having that generational success. … And I thought maybe I can help this way. There shouldn't be a reason kids can't continue their education when they have a desire and a passion to do so."
In a video on her Facebook page, Miles – who also played professionally in Germany and New Zealand – referenced the late Civil Rights leader and U.S. Rep. John Lewis as the inspiration for the scholarships.
"One of our great leaders once said, 'When you see something that's not right, not fair, not just, you have to speak up. You have to say something, you have to do something.' That was from the Honorable John Lewis," she said. "And I've decided to do something."
In an email, Miles said she decided to establish the scholarship during the summer when "all the unjust and racial tension in this country was high."
The second round of Young King's and Queen's Scholarships – for the Spring 2021 semester — will be awarded on Jan. 10, 2021 and applications must be submitted before Jan. 3, 2021. Applicants must be a Black male or female, must show proof of acceptance and admission to a university, must be registered to vote and must show financial need.
In addition, a 30-second-to-1-minute video explaining why the scholarship will be helpful and detailing future plans will be required.
Scholarships for Fall 2021 semester will also be available, with the application deadline set for Aug. 1, 2021 and the winners – two young men and two young women – announced on Aug. 8, 2021.
People who want to support the program are also encouraged to make donations to the scholarship fund through PayPal or CASHAPP ($AAMPH).
"Originally, I was going to do this with my own money," she said. "But once I put it on Facebook I was so surprised with all the support I got. I thought, 'I can't believe this many people want to help.' It was awesome. I'm still shocked at how it all turned out."
For more information, visit https://docs.google.com/forms/d/e/1FAIpQLSdzoqG84L64TRJDagdI1nOGMoaD51DvhWqV9wTiitIv81M7GQ/viewform or conact through email at [email protected].