Outfitters and river access advocates are worried about a budget decision to furlough a longtime county employee who coordinated commercial use of the Snake River between Wilson and South Park boat ramps.
Snake River Angler owner Will Dornan was incredulous at the decision to furlough Mike Estes, a recreation program coordinator who has worked for Teton County for 24 years. Make that 28, if his time spent as a Teton County Search and Rescue volunteer is included.
"You just got rid of your very, very best," Dornan said.
Since 2017 Estes has coordinated commercial use of the county-administered stretch of the Snake River, overseeing the river management program, which was revised and made final in 2018. Dornan didn't originally want the program, and, specifically, the permits that came with it. But he said Estes managed it well, and he was concerned about letting him go.
"When things are tough, do you cut your best people?" Dornan asked, answering his own question: "You keep your very best."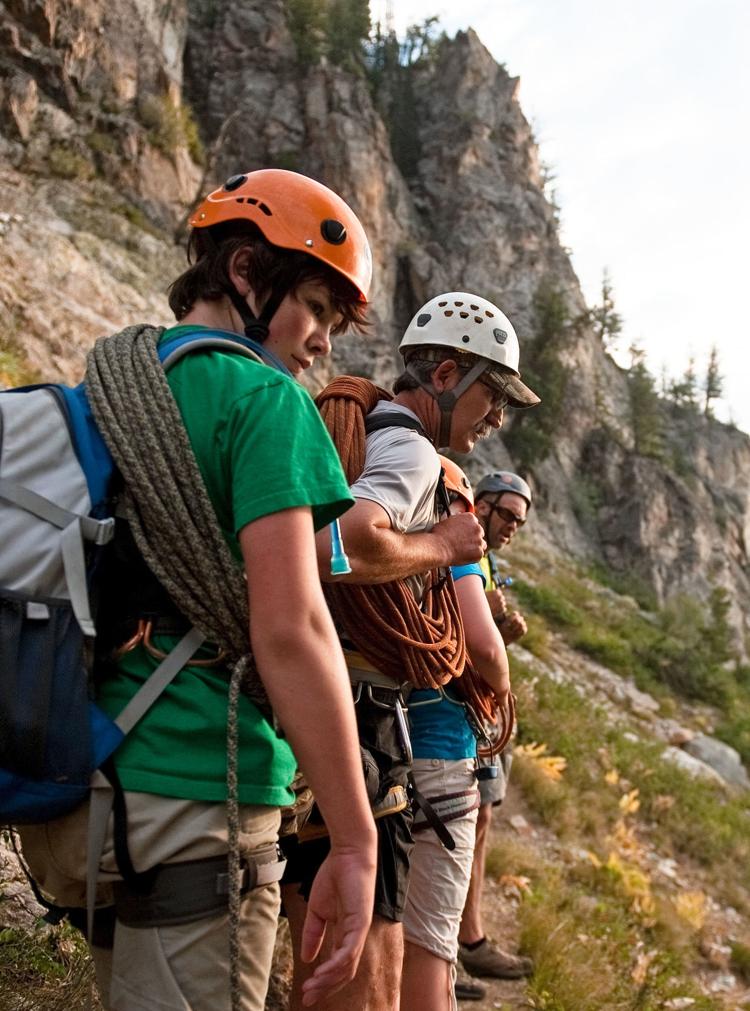 Mike Estes, center, of Teton County/Jackson Parks and Recreation, keeps an eye on the final members of the Jackson Hole Middle School climbing club in August 2012 in Grand Teton National Park. Outfitters and river access advocates are concerned about a county decision to furlough Estes, who coordinated commercial use of the Snake River between the Wilson and South Park boat ramps.

JACLYN BOROWSKI / NEWS&GUIDE FILE


Estes confirmed he was on a 12-week furlough, working as a maintenance technician while the Teton County/Jackson Parks and Recreation department figures out how to handle his former position. Because he is on furlough, he does not have access to the sick leave and vacation time he's accrued. He declined to comment further.
Parks and Rec Director Steve Ashworth did not respond to requests for comment. But, in public meetings, he has said the department is struggling.
With a number of in-person programs on hold because of the COVID-19 pandemic, Ashworth told the Teton County Board of County Commissioners in December that Parks and Rec is "looking at close to an $850,000 revenue loss."
Ashworth said five individuals in his department had been laid off, all its part time staff had been eliminated, and six other employees had either been furloughed or reassigned.
But even with those staffing cuts, the department is still in the red. It's been able to reduce its budget by about $730,000, leaving about $120,000 unfunded.
"We're still upside down," Ashworth said Dec. 21. "We're going to be looking at the elected officials for an infusion of some additional funding in order to keep us from cutting and reducing and taking away more of our staff."
That report from Parks and Rec came as the County Commission is considering a mid-year budget amendment amid better-than-expected sales tax revenue, which makes up about 45% of the county's annual budget. Going into this fiscal year, which started in July and will end in June, the county predicted a 50% decline in sales tax collections. But with a busier-than-expected summer, the local government is faring better than expected.
"We're definitely not at the 50% mark," Treasurer Katie Smits said in December.
The county had collected $20 million of the $36 million in general fund revenue it anticipated for this fiscal year by the end of November. By Oct. 31 sales tax collections were down only 6.27% from the same time the previous year: $8.7 million, or so, versus around $9.3 million. Collections in October 2020 alone were 29.1% higher than October 2019.
There are still eight months to go in the fiscal year and hotel booking projections are down from last season, so the fiscal future is uncertain. But the better-than-expected revenue performance so far has commissioners considering adding expenses back into the budget.
Those include money for other county departments' priorities (roughly $490,000), money to pay for COVID expenses that weren't covered by the federal CARES Act (about $60,000), and funding for a 2.5% merit increase for employees that was cut from the budget amid the dire fiscal projections earlier this year (about $560,000). The commission is also set to discuss funding next week for capital projects and a roughly $1.6 million loan to Jackson Hole Fire/EMS to purchase voter-approved, Specific Purpose Excise Tax-funded fire trucks ahead of schedule.
Parks and Rec has included about $71,000 in its priorities request, with no staff-related expenditures in that total. Teton County Clerk Maureen Murphy said the department had requested some staff-oriented funds in the CARES pool.
In a letter to the County Commission, Annie Estes laid out the programs her father had a hand in developing — Camp Jackson, after-school programs, and the Rec Center's high adventure expeditions — and described the consideration of pay raises in light of his and other workers' misfortune "inconsiderate."
"How can the county be considering pay raises when the Parks and Rec is struggling to keep their head above water?" she wrote, admitting her bias towards her father but also pointing to others who have been laid off. "Where was this money before people lost their jobs?"
Snake River Fund Executive Director Jared Baecker was confused about Estes' furlough because he thought the river management program ran in the black.
"We kind of cut off our nose to spite our face for a program that is actually performing," Baecker said. "I think that the river management program successfully performed."
The program brought in over $144,000 in 2020 while spending just shy of $38,000, according to a Parks and Rec budget document from its Dec. 10 advisory board meeting.
Ashworth said in a Jan. 4 County Commission meeting that winter programming is what makes the river management position "sustainable." And, with programming suspended, Ashworth suggested bringing someone back could cause a workload issue: "Even if we were flush with extra money … there's limited work."
Bud Chatham, owner of Dave Hansen Whitewater, described Estes as an intermediary, someone who would get involved at the boat ramp, resolving conflict as needed and managing traffic on busy days like the Fourth of July.
It's unclear whether he or the other employees furloughed at Parks and Rec will be reinstated. But Chatham said he'd "absolutely" like to see Estes back in his old role.
"He's a great person and someone that everyone respects and will listen to," Chatham said. "Very measured. It's great to have that type of person in that position. He's a trusted voice."